Overall, I thought the opening ceremonies were awesome last night. Really cool techie stuff. Awesome pyro stuff. It was really neat. I'm sicker than a dog and was hyped up on cold medicine, but I was still able to enjoy it.
This ball thing was one of my favorites. It was cool how they could show video on it and on the screens above the stadium. It was sweet.
How sweet and cute is this little guy! Did you hear his stoy- be still my heart! Little 2nd grader, Lin Hao or something like that was in the terrible earthquake that killed 70,000 chinese in May. He was a little hero, pulling out 2 of his classmates beneath the buried rubble of their school. Out of his class of 30, only 10 survived. He got to help lead the chinese delegation in....so sweet.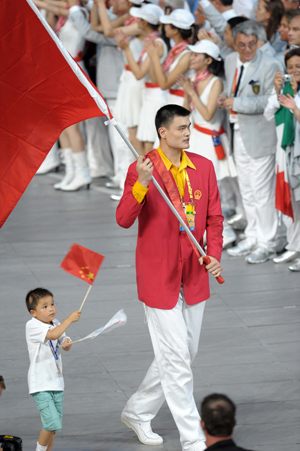 Tonight's menu of events include swimming (Phelp's first medal attempt), men's team gymnastic qualification, and I'm sure other events sprinkled in. First USA medals already handed out to a US sweep of the Women's Sabre event! GO USA!!!